Integrate VIRALERT 3 for completely contact-less health checks.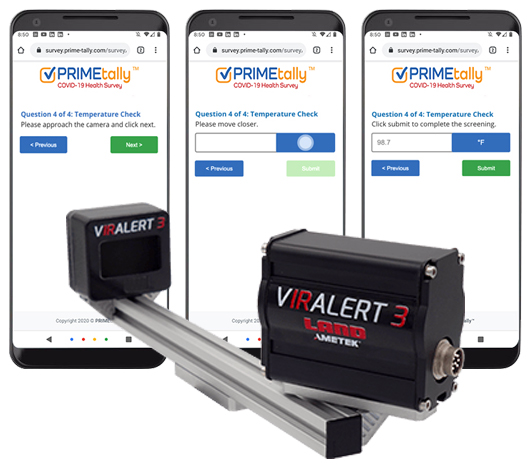 Developed over ten years by AMETEK Land's world-leading temperature monitoring experts, the VIRALERT 3 is a real-time scanning solution that's safe, accurate, and easy to use.
Integration with PRIMEtally allows individuals to use their own devices to respond to screening questions and VIRALERT 3 to capture their temperature upon entry to complete the health check.
This unique collaboration provides a complete, turn-key, and contactless method to conduct daily health screenings, safeguarding your employees and your business from potential coronavirus carriers.
ALL-IN-ONE SCREENING SYSTEM
SAFE
Non-contact temperature monitoring camera
Immediately detects elevated skin temperature
Scans in compliance with social distance requirements
Auto populates the temperature field in the PRIMEtally survey
EASY
Intuitive user control
Audible alarm and on screen notification in PRIMEtally
Automated operation option
ACCURATE
Fixed calibration source ensures reliability
Supported by 70+ years of industry expertise
Automatic face detection for best monitoring points
±0.5 °C (±0.9 °F) at a distance of 1m.
Contact us to learn more about this turn-key, contact-less solution to safeguard your business and your employees.